Cross-posted at "Pretty Random Ramblings"

Before I delve into this next post, there are a couple things I want to make sure is out there. There are players that I like because I've followed them for many years since they were 14-15 solely because they were Chinese (Sun Yue, Yi Jianlian, Chen Jianghua). I usually ended up also following the teams they were on as a result, too, and growing a liking for them.

The Houston Rockets are not one of those teams.

Whenever I tell people that I like the Houston Rockets, the response I am usually met with is, "Do you like them just because they have Yao Ming?"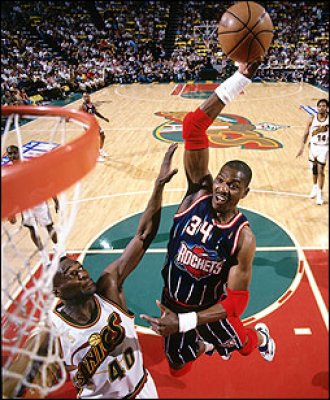 I have been a Houston Rockets fan almost my whole sports-caring life. Growing up in NH without a pro team to rot for, I didn't just default to the geographical choice (though the Celtics were still halfway decent at that time). When I was 4 or 5, and everything was screaming MJ, I decided that Hakeem Olajuwon was the best player in the NBA. Everything he did was with a kind of grace that we don't seem to see out of big men anymore (or maybe ever, I'm not a big classics guy). This continued through my elementary school years, and when he was done there, I loved the Rockets under Franchise and Cat. They were bad, but at least they were fun (unlike the Celts). When Yao Ming was picked, I'm not going to lie, I was happy, but it wasn't even my happiest draft moment of the Rockets. That award goes to when they traded Rudy Gay for Shane Battier, who, since his sophomore year at Duke, was my favorite active player.



So yes, I like Yao Ming. He's a stand-up guy, a good teammate, and one of the best, if not the best (TD is really a 4) centers in the league. But to say that he is the sole reason for my liking of the Houston Rockets is a gross discounting of my years and years of fandom.

So after that very length introduction, which I felt like i had to do with the influx of new readers, I will get on with my post.

I have been notably critical of the Rockets off-season thus far (only because I care). I really liked Mike James and had hoped that he would come back to Houston last off-season, but I disagreed with trading Juwan Howard for him as it would leave us with only Chuck Hayes at PF, while having an absolute glut of small guards (Rafer Alston, Mike James, Luther Head, Vassilis Spanoulis, John Lucas III, Bob Sura). Then when we drafted Aaron Brooks with our first pick, I certifiably flipped out because we had just taken another 5'11 PG with pieces like Nick Fazekas, Glen Davis, and Josh McRoberts still on the board.

But now, my worries have been assuaged. Yesterday, the Rockets traded Vassilis Spanoulis (who recently announced he's leaving the NBA because of homesickness), next year's second round pick, and cash to the Spurs for the rights to this year's Spanish League MVP Luis Scola and promising young center, Jackie Butler .

Scola is one of the more promising PF prospects overseas right now, as he took care of the US bigs during Argentina's 2004 Gold Medal run. I definitely see him as someone who could come in and play right away. And even if he does stay overseas, as some are saying he is wont to... I have no qualification for that at this point, but I'm sure it wouldn't be that bad because we still gave up nothing for something.



Watch as Scola shows Jermaine O'Neal who owns the paint.
So in one fell swoop, the Rockets did everything they needed to in the off-season, get help at the PF spot, and a decent back-up center to eat up minutes so that Deke can save his aging body. And to boot, they gave up nothing. Rather they gave up less than nothing, as V-Span wasn't going to play for us anyway and was just taking up room on the salary.
I'm not sure what the Spurs were thinking with this, but I glad they weren't. My respect for GM Daryl Morey has been reignited (because respect is a fire, of course...). I still don't know if Houston can compete with the bigs (Dallas, Phoenix, San Antonio), but they are definitely moving up the ranks.