Two big superstars of a high school's 2006 graduating class face off tonight. Who might they be, you ask? It isn't Gerald Henderson vs. Wayne Ellington for sure, that won't happen until late into teh season (Duke vs. UNC out of Episcopal Academy). The GODE made sure that it wasn't he and MCII (Grizzlies vs. Blazers, Lawrence North). Wait so what big high school tandems are left?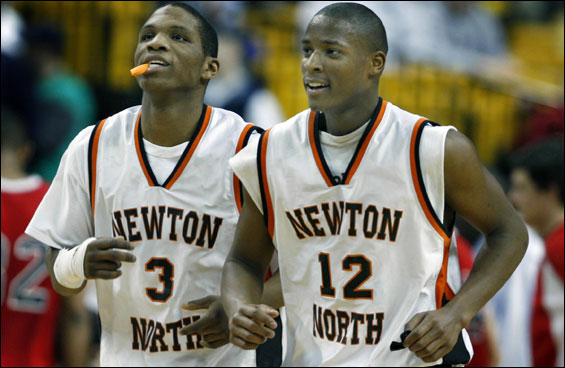 Corey Lowe (left) and Anthony Gurley (right) during their high school glory days



Of course, it's the reunion of Corey Lowe and Anthony Gurley, graduates of my alma mater, Newton North, who led our team to two straight Massachussetts State Championships, the first of which was over a Jeff Adrien (UConn)-led Brookline team. Our team made a brief appearance on the Yahoo! Sports High School Power Rankings, peaking at No. 15, which put them ahead of the aforementioned Episcopal Academy team.

How about a couple brief Bios of the two players?

Corey Lowe is a sharpshooter with deadly accuracy. He originally committed to head over to the Big East in Providence, before finding out that he was slated to be red shirted his freshman year (The Friars stacked his position for that recruiting year). Not having any of that, he decided to go lower profile down to nearby Boston University, and has reaped the benefits since then. He has been tearing it up so far this year, averaging 20 points, 4 assists, and 4 rebounds, and sooting 41% from the arc. He has established himself as the clear leader on a weak BU team, but does not figure to lead them anywhere this season.

Anthony Gurley was a god among men when playing against the weak competition of Massachussetts basketball. His stellar play garnered him the attention of many scouts, as he became a 4 star rated prospect, and ultimately sent him to Wake Forest. Last season on the Deacons, he played well enough to earn a fleeting starting spot, but never seemed as sure of himself in college as he did in high school. With Skip Prosser's untimely death last season, the last remaining attachment he had to Winston-Salem was lost and he decided to transfer to UMass where he hopes to follow in the footsteps of Marcus Camby to achieve is NBA dreams.

Gurley actually is ineligible to play this season because of transfer rules, but he at least gets to sit on the bench and watch as his former best friend Corey is on the other side of the ball and torching his team.

[edit] I misread the schedule. Mass actually played BC tonight, not BU.